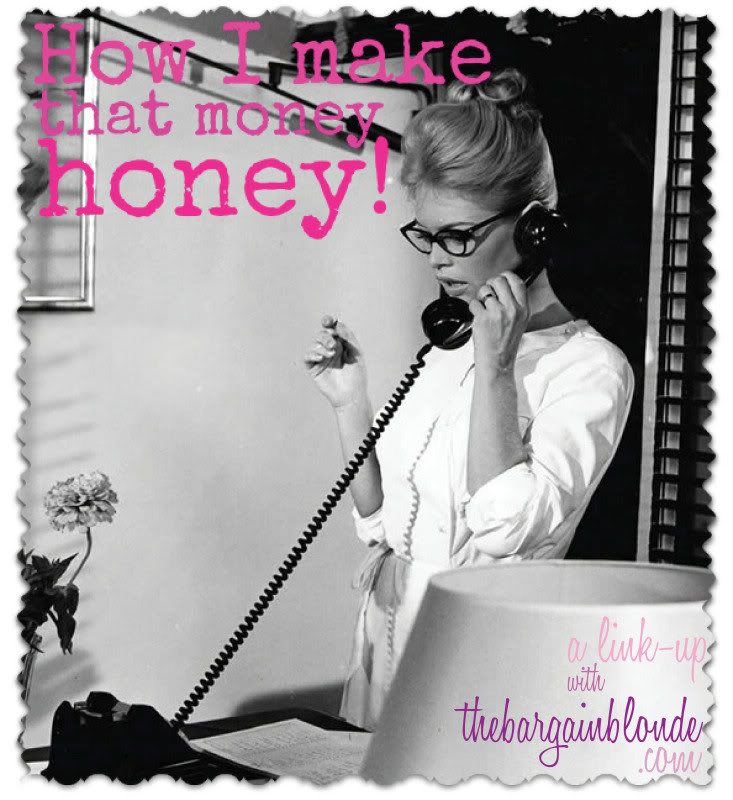 I was thinking I'd link up with the bargain blonde and talk about job stuff! I've had a lot of people ask about my job and how I got into it and all that jazz, so let's talk. And I definitely want to hear from all my loveys. Tell me what you do! Stay-at-home mama? Do you work outside the home? Spill the beans, girlfriends.

OK, back to me.
So I graduated from
Liberty University
way back when in 2003 (gosh, that sounds forever ago). It's a great school and I recommend it, but it's gotten a lot cooler since 2003. They've got everything now. I think of the dorm rooms that are like condos now, and reminisce about me and Laurie in our room with cement walls and a sink. (Smack-dab next door to our RAs, I might add.) But girl, we had some great times. Right, Laurie?
Anyhoo, so I knew I wanted to work in a field that included books or writing. I had an idea that being an editor would probably be a great job for me. I majored with a BA in English. My senior year, a girl in one of my English classes told me about an internship she'd done for a magazine company. It sounded great and she encouraged me to try for a book publishing internship. Really good idea. So I applied for an internship and waited and hoped and prayed that I would get it. Long story short, I did. And so did another girl from my college! Yay! I had a ready-made friend for my summer internship. (So glad about that, Sam!) During the internship I realized that editing books was, indeed, a perfect fit for me.
About a year after my internship, there was an opening in that same book publishing department and I was hired! Fast forward 8 years, and I'm still a book editor. But now I'm a mommy so I scaled down my hours to part-time. (I've also found that part-time is a perfect fit for me! Love it.) I really love taking manuscripts and helping to shape them into what they need to look like. For me, it's like putting together a puzzle. You have to be able to move things around, spot what's missing, take out what's not needed, make everything flow together--in order to have the finished product. For my specific job, I'm a developmental editor. I do the substantive edit (the big-picture edit, rather than the nitty-gritty copyedit stuff). So I work with authors from the time they turn in their manuscripts to the point where the bound book is in their hands (this usually takes about a year). I'm the go-to editor throughout the process, but I usually hire freelance copyeditors and proofers to help along the way (this is a common part of the process). It's a great job and I love it.
Some people ask me how they could become a freelance editor. I do know that some publishing houses have editing tests you can take so they can see what your editing level is and whether you'd be right for substantive editing, copyediting, or proofing or whatnot.
I feel lucky in a lot of ways to have a job that I'm passionate about. Like everybody, I go through ups and downs and days where I feel burned out or uninspired. And I don't think we all necessarily have to find jobs that are completely perfect. For the most part, we work to support ourselves and the people we love. I need to take care of my children regardless of what my job is. My husband feels that way as well. He works to provide for us and he would do that no matter what kind of job he had to take. But whenever we can work in a field that feels right to us (whether that's being a SAHM or a work-outside-the-home mom), it makes life that much better, doesn't it? It gives us a sense of fulfillment.
So tell me, lovey? What do you do? Is it your dream job? Your in-between job? What do you want to do?